 The Board of Elders is charged with the general oversight of all ministries and staff of the church. While administrative decisions and actions are subject to their authority, their primary role is to work with the Senior Pastor and Associate Pastors to ensure the church remains true to God's Word and moving forward in God's mission. Also, they are charged to help meet the pastoral needs of the congregation as much as possible.
"To the elders among you, I appeal as a fellow elder and a witness of Christ's sufferings who also will share in the glory to be revealed: Be shepherds of God's flock that is under your care, watching over them—not because you must, but because you are willing, as God wants you to be; not pursuing dishonest gain, but eager to serve; not lording it over those entrusted to you, but being examples to the flock. And when the Chief Shepherd appears, you will receive the crown of glory that will never fade away."

1 Peter 5:1-4
---
Daniel Broberg
Term: 2021-2024
Married to Sara for 7 years. Two daughters and one son.
I grew up in the church and was always very active, but it wasn't until I moved away after college that I really made a personal decision to follow Christ. I started reading the Bible and understood that I was a sinner and was in desperate need of a savior.
My wife, Sara, and I met serving in college ministry and it continues to be a large part of our life as we help lead the Young Adult Ministry at Living Faith. We love serving at Living Faith and witnessing all God is doing through this church community.
A member of LFCC since 2016.
---
JOHN CAIRO
Term: 2020-2023
Married to JoAnn for 42 years. Two adult daughters.
The Lord burdened my heart for many years to come to know Him as the true God that Scripture reveals. In 1976, by the witness of three people at work, I came to trust in Jesus as my Lord and Savior. Joann trusted in Jesus as a young girl after watching the movie King of Kings.

It is our greatest honor and privilege to serve the Lord. Together, we host a small group in our home. I also host a LifeGroup. Joann sings to God's glory in the choir.

A member of LFCC since 2005.
---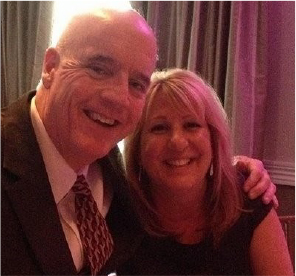 BRIAN CRAWFORD
Term: 2020-2023
Married to Donna for 32 years. One son and daughter-in law.
The LORD opened my eyes and changed my life in 2003 and I dedicated my life to Christ. My life is abundantly blessed by our Savior who gave me a new heart, new sight and new purpose. It is humbling and a privilege to serve the Lord at Living Faith where God changes lives and works in amazing ways.

I have been blessed to have served as a Small Group Leader, Deacon, Elder and participant of the Nominating Committee.

A member of LFCC since 2008.
---
JOHN EKSTROM
Term: 2020-2023
Married to Debbie for 29 years. Two adult daughters, both in Grad school and one son in high school.
I became a Christian during VBS at the age of 5. Being saved at an early age, I didn't find many obstacles to my Christian walk. However, as I approached my high school years, I realized I was being challenged daily to make the right decisions and please God. The Lord provided a group called Campus Life where I found like-minded believers and accountability. While that seems like a long time ago, God has continued to stand by me as I grow in the knowledge and grace of our Lord Jesus Christ.

I serve as a Small Group Coach and a Christian Service Brigade Leader.

A member of LFCC since 2007.
---
MICHAEL FREEMAN
Term: 2021-2024
Married to Lisa for 18 years. One son.
I became a Christian as a child and have been attending church my whole life. I am originally from Florida, but in 2009, Lisa and I moved to Lisa's hometown of Farmingdale. After moving to NY we began attending LFCC. I have been involved in various ministries throughout most of my life and enjoy serving in whatever God has me in at that time.
I presently serve as a Youth Leader, Small Group Leader, and a Small Group Coach. Together we have also been involved in College Ministry, Finance, and the Media Team.
A member of LFCC since 2009.
---
JACK HOLLAND
Term: 2019-2022
Married to Ellen for 25 years. Four adult children, three married, one grandson.
I committed to Jesus about 20 years ago when I realized that Christ died, not just for everyone, but for me. Historical evidence and books like the "Case for Christ," and Ellen's strong faith were instrumental in opening my eyes.

I presently serve as CSB Brigade Leader (aka Captain Jack) for boys programs on Mondays nights and in the past on the Missions Committee, as a Small Group Leader and in Sunday School. Ellen volunteers in the nursery on Sunday mornings and is an active volunteer at Soundview Pregnancy Center.

A member of LFCC since 1999.
---
JEFF HUNN
Term: 2019-2022
Married to Nicole for 15 years. Two children, a daughter and a son.
I was blessed to be raised in a home that followed God and I made the decision to do the same at an early age. However, it wasn't until my junior year of college that I realized my need for a truly personal relationship with Christ and actively pursued His will for my life. Since then, I've tried to shift my focus away from seeing what God can do for me to seeing what God can do through me.

Nicole and I are involved in worship and small group ministries and feel blessed to witness all that God is doing in people's lives at Living Faith.

A member of LFCC since 2005.
---
MIKE MCCARDLE
Term: 2021-2024
Married to Renee for 21 years. Three children, Michael 24, Cassandra 22, and Sarah 16.
After living far from the truth for most of my adult life, my Lord and Savior Jesus Christ called me out of the darkness into His marvelous light. Every day I look forward to what He has in store for me and how I can serve Him, until that glorious day I stand in His magnificent presence in hope of hearing those words "Well done, good and faithful servant".
I have served as a small group leader, an usher, in the Care Ministry, and more recently, as a member of the Missions committee.
A member of LFCC since 2014.
---
CLIFF MOLINELLI
Term: 2021-2024
Married to Andi for 46 years. Two adult children, one daughter-in-law, and four grandchildren.
I accepted Jesus as my Lord and Savior almost 50 years ago. I was not able to see my need for Him until coming to a very low point in my life. My life changed forever on that day. I experienced what it was like to have true purpose and joy. Andi became a Christian several months before me. We began seeking the Lord together and He has guided us through life's joys and trials.
Andi and I presently co-lead a small group and I am also a Small Group Coach.
A member of LFCC since 1977.
---
RICHARD PRINCE
Term: 2021-2024
Married to Felicia for 24 years. Two daughters.
I was raised in a Christian home, thanks to my Grandmother. She made sure to bring my older brother and I to Church every Sunday. Eventually, my mom got saved and sought to have my brother and I immersed in the word of God. It was then that I gave my life to Christ at the approximate age of 12. However, it wasn't until about 19 years ago, where my relationship with Christ took off on a true personal relationship. Ask me about it one day, I'll be happy to share.
I have the privilege of serving as a men's lifegroup leader, and leading a small group with my wife. I serve on the Finance Committee and assist in the Food Box Ministry.
A member of LFCC since 2015.
---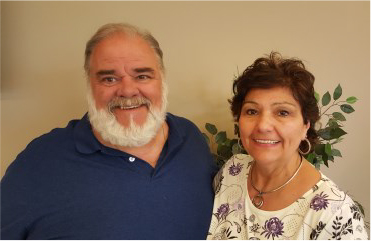 DOUG TIMMONS
Term: 2019-2022
Married to Fran for 48 years. Two married daughters, one grandson and one granddaughter.
I rededicated my life to Jesus in April 1979 at a weekend retreat. Fran came to know the Lord earlier the same year.

I started teaching Sunday School in 1989, and continue to teach middle school students. In addition, we both serve as Small Group Leaders. Fran has taught preschoolers since 1989. She also serves as part of the Hospitality team. We are privileged to serve at LFCC.

A member of LFCC since 1989 .
---
MIKE VASQUEZ
Term: 2020-2023
Married to Sylma for 30 years. One son and two daughters.
I was raised in a devout Catholic home but walked away from God. The Lord was gracious and patient with me. He used my wife to draw me back to Him as I surrendered my life to Jesus.

I have been joyfully serving at Living Faith over the years as an Usher and in the Care Ministry. My wife and I lead a couples Small Group and both serve at the Connection Center. I have also served on a number of Mission Trips including to the Dominican Republic, Puerto Rico and Stockport, England. I am humbled by the opportunity to serve the congregation in this capacity.

A member of LFCC since 2015.
---
"The elders who direct the affairs of the church well are worthy of double honor, especially those whose work is preaching and teaching."

1 Timothy 5:17
"The reason I left you in Crete was that you might put in order what was left unfinished and appoint elders in every town, as I directed you."

Titus 1:5
"Is anyone among you sick? Let them call the elders of the church to pray over them and anoint them with oil in the name of the Lord."

James 5:14