 The Board of Elders is charged with the general oversight of all ministries and staff of the church. While administrative decisions and actions are subject to their authority, their primary role is to work with the Senior Pastor and Associate Pastors to ensure the church remains true to God's Word and moving forward in God's mission. Also, they are charged to help meet the pastoral needs of the congregation as much as possible.
"To the elders among you, I appeal as a fellow elder and a witness of Christ's sufferings who also will share in the glory to be revealed: Be shepherds of God's flock that is under your care, watching over them—not because you must, but because you are willing, as God wants you to be; not pursuing dishonest gain, but eager to serve; not lording it over those entrusted to you, but being examples to the flock. And when the Chief Shepherd appears, you will receive the crown of glory that will never fade away."

1 Peter 5:1-4
---
Daniel Broberg
Term: 2021-2024
Married to Sara for 7 years. Two daughters and one son.
I grew up in the church and was always very active, but it wasn't until I moved away after college that I really made a personal decision to follow Christ. I started reading the Bible and understood that I was a sinner and was in desperate need of a savior.
My wife, Sara, and I met serving in college ministry and it continues to be a large part of our life as we help lead the Young Adult Ministry at Living Faith. We love serving at Living Faith and witnessing all God is doing through this church community.
A member of LFCC since 2016.
---
MATT CRAKER
Term: 2022-2025
Married to Kerri for 25 years. Two adult sons.
love Jesus above all and received Him as my Savior during the Summer of 7/8th Grade. After hearing the story of the prodigal son and truly connecting it to God's love for me, I surrendered my life to Him. I am far from perfect, and I fall on God's grace daily. It is my honor to serve Him and His people.
I serve on the Worship Ministry tech team, in Children's Ministry and on the Finance Committee. Also, over the years, Kerri and I have consistently led small groups in our home for couples.

A member of LFCC since 2012.
---
MICHAEL FREEMAN
Term: 2021-2024
Married to Lisa for 18 years. One son.
I became a Christian as a child and have been attending church my whole life. I am originally from Florida, but in 2009, Lisa and I moved to Lisa's hometown of Farmingdale. After moving to NY we began attending LFCC. I have been involved in various ministries throughout most of my life and enjoy serving in whatever God has me in at that time.
I presently serve as a Youth Leader, Small Group Leader, and a Small Group Coach. Together we have also been involved in College Ministry, Finance, and the Media Team.
A member of LFCC since 2009.
---
WILNER FATON
Term: 2022-2025
Married to Stephanie for 22 years. Three children, a daughter and 2 sons.
My journey to a meaningful relationship with God began over 25 years ago. It all started when a friend witnessed to me not only through words, but also actions. We are truly blessed and honored to be at the service of Yahweh. God is powerful but also personal, big enough to hold the whole world in His hands yet small enough to reside in our heart. We therefore endeavor to "press on toward the goal to win the prize for which God has called [us] heavenward in Christ Jesus (Phil 3:14).
I presently serve as an Usher and as a Ranger at Crusade Service Bri-gade. In the past I served as a Round Table Facilitator, Mission Committee member, and Elder. My wife Stephanie is a Choir/Praise Team member and a small group leader.
A member of LFCC since 2000.
---
STEVE GARTON
Term: 2023-2026
Married to Anne for 36 years Two adult children, one son and one daughter
My faith journey began at age 14 when I heard the gospel message on a Christian radio program. The speaker's explanation of Revelation 3:20 deeply resonated with me, and I made the decision to accept Jesus Christ as my Lord and Savior. Since then, my faith has played a central role in shaping who I am today. Through these experiences, I have gained a deeper understanding of the love and grace of God, and I am committed to sharing this message with others.
I serve as a Group Life coach and have participated in several missions trips in the United States and to England. A member of LFCC since 2012.A member of LFCC since 2005.
---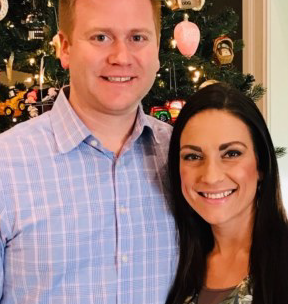 JEFF HUNN
Term: 2023-2026
Married to Nicole for 18 years. Two children, a daughter and a son.
I was blessed to be raised in a home that followed God and I made the decision to do the same at an early age. However, it wasn't until my junior year of college that I realized my need for a truly personal relationship with Christ and actively pursued His will for my life. Since then, I've tried to shift my focus away from seeing what God can do for me to seeing what God can do through me.
Nicole and I serve on the worship team and feel blessed to witness all that God is doing in people's lives at Living Faith. I also serve as a Ranger in the Trail Life boys program.
A member of LFCC since 2005.
---
ARTIE MARTIN
Term: 2023-2026
Married to Dawn for 29 years. Two adult daughters, 2 sons-in-law and 2 grandsons.
I became a Christian in 1979 and attended Zion Bible College and Nyack College. My life verse is Jer. 29:11-13, "For I know the plans I have for you, plans to prosper you and not to harm you, plans to give you hope and a future. Then you will call on me and come and pray to me, and I will listen to you..." (NIV).
We enjoy serving together as Lifegroup leaders for married couples. I am also a Lifegroup coach.
A member of LFCC since 2000.
---
MIKE MCCARDLE
Term: 2021-2024
Married to Renee for 21 years. Three children, Michael 24, Cassandra 22, and Sarah 16.
After living far from the truth for most of my adult life, my Lord and Savior Jesus Christ called me out of the darkness into His marvelous light. Every day I look forward to what He has in store for me and how I can serve Him, until that glorious day I stand in His magnificent presence in hope of hearing those words "Well done, good and faithful servant".
I have served as a small group leader, an usher, in the Care Ministry, and more recently, as a member of the Missions committee.
A member of LFCC since 2014.
---
CLIFF MOLINELLI
Term: 2021-2024
Married to Andi for 46 years. Two adult children, one daughter-in-law, and four grandchildren.
I accepted Jesus as my Lord and Savior almost 50 years ago. I was not able to see my need for Him until coming to a very low point in my life. My life changed forever on that day. I experienced what it was like to have true purpose and joy. Andi became a Christian several months before me. We began seeking the Lord together and He has guided us through life's joys and trials.
Andi and I presently co-lead a small group and I am also a Small Group Coach.
A member of LFCC since 1977.
---
RICHARD PRINCE
Term: 2021-2024
Married to Felicia for 24 years. Two daughters.
I was raised in a Christian home, thanks to my Grandmother. She made sure to bring my older brother and I to Church every Sunday. Eventually, my mom got saved and sought to have my brother and I immersed in the word of God. It was then that I gave my life to Christ at the approximate age of 12. However, it wasn't until about 19 years ago, where my relationship with Christ took off on a true personal relationship. Ask me about it one day, I'll be happy to share.
I have the privilege of serving as a men's lifegroup leader, and leading a small group with my wife. I serve on the Finance Committee and assist in the Food Box Ministry.
A member of LFCC since 2015.
---
JOHN TOSCANO
Term: 2023-2026
Married to Patty for 51 years Six adult children, three sons-in-law, two daughters-in-law and fourteen grandchildren (soon to be fifteen)
I accepted Christ as Lord some 40 years ago. My Christian life has been a journey through which God has demonstrated His unfailing mercy. I endeavor, by His grace, to lead a life pleasing to Him.
I presently lead a men's cell group and have previously served on the Prayer Team, Missions committee, as the church treasurer, a small group leader and facilitator for First Serve.
A member of LFCC since 2007.
---
HERB VAN HOOSER
Term: 2022-2025
Married to Louise for 50 years. One adult son.
I was raised in a Christian home and received Christ as my Savior at age 13. Later in my twenties, I made a full commitment to serve Him with my whole heart. This decision resulted in a career change from teaching to Christian bookselling.
I have served as an Elder, Small Group Leader and Coach, First-Serve Coach, and Men's Round-Table Leader.

A member of LFCC since 1996.
---
"The elders who direct the affairs of the church well are worthy of double honor, especially those whose work is preaching and teaching."

1 Timothy 5:17
"The reason I left you in Crete was that you might put in order what was left unfinished and appoint elders in every town, as I directed you."

Titus 1:5
"Is anyone among you sick? Let them call the elders of the church to pray over them and anoint them with oil in the name of the Lord."

James 5:14